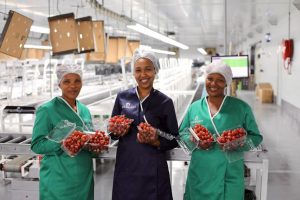 Staff in the pack house at Modderdrift proudly show the stunning Starlight Seedless grapes. FLTR: Alice Filander, Monadia Arendse and Juleen Olyn.
—-
UK retailers welcome early Hex River grape harvest
—–
On 12 December 2019 Modderdrift Estate was featured on the prominent Freshplaza International online fruit news publication quoting Jacques Beukes as follows:  "For the first time ever, grapes are picked on 11 December in the Hex River Valley," says Jacques Beukes of Modderdrift Boerdery, a table grape grower-exporter outside De Doorns in the Western Cape.
Follow link below to see Freshplaza article
https://www.freshplaza.com/article/9172434/uk-retailers-welcome-early-hex-river-grape-harvest/